Prescription Goggles for Swimming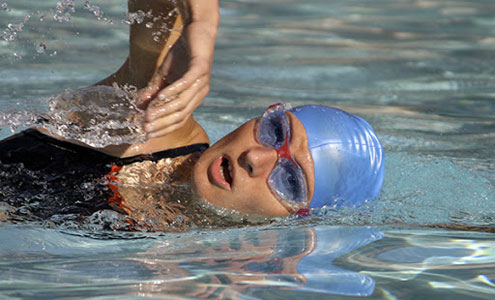 As someone who wears prescription glasses (or contacts) you already know how important it is to take care of your eyes. This care and attention extends itself to pool and ocean swimming as well. Swimming goggles are important from a safety perspective. They allow you to correctly judge walls and avoid other swimmers, but also keep harmful irritants and chemicals like chlorine and its nasty step-brother chloramines from causing itchiness and bloodshot eyes.
While you don't get the same selection of goggles as those without prescription vision, there are lots of corrective lens goggle options out there.
How to Choose Prescription Swim Goggles
If you require glasses to see clearly, you may also want to purchase goggles with corrective lenses for the pool or ocean. Luckily, there are companies that manufacture corrective lens goggles in a variety of styles.
The Corrective Lens
Prescription goggles come with ready-made spherical lenses of varying strengths known as dioptres. This type of lens production is similar to the generic reading glasses found in pharmacies. The prescription will be a close match to your own, but may not be as precise as that in the glasses or contact lenses you use every day.
For use in the water, step dioptre correction lenses are usually perfectly adequate. They are also more widely available and affordable than custom-made prescription goggles from a doctor or optometrist.
Negative dioptre lenses are the most commonly available for goggles. They are intended for those with nearsighted or myopic vision. Lenses range in dioptres from -1.5 to -10.0 and come in increments of 0.5.
Positive dioptre lenses are for farsighted swimmers, and are less common.
Finding Your Dioptre Strength
The first step to choosing prescription goggles is determining the dioptre strength that most closely matches your current prescription. There are places that claim you can plug the values on the prescription from your optometrist and give you the two values we require. But our optometrist friends tell us that this is not going to work properly.
We strongly recommend that you consult your optometrist about which swimming vision correction solution is best for you. We recommend you show them this information. Your optometrist will be able to work out which corrective solutions are available to you and make recommendations as to what to get, plus provide the two dioptre values we need.
We are not optometrists and can't read your script to determine if a corrective lens goggle will work for you. Correction/optical lenses typically will work for the vast majority of people, but some eye shapes can't be accommodated this way.
Your prescription may need to be changed, because the distance between the lens of your swimming goggles and your eyes typically is different from the distance between your eyeglasses lenses and your eyes. (This also is one of the reasons your contact lens prescription is different from your eyeglass prescription if you have moderate or high myopia.) An eye care professional specialising in sports eye wear can adjust your prescription for swimming use.
Your optometrist will also be able to provide you with the best spherical correction dioptre values for your left and right eyes given the half dioptre increments of corrective lenses. Then you can order your corrective lens goggles from The Scuba Doctor with confidence in achieving a great outcome.
How Can I Tell If The Goggles Will Fit?
For a good fit, your correction swim goggles should sit comfortably on the bridge of your nose and create a seal all the way around your eyes without any gaps. You could use a mirror to check the seal as it can be difficult to spot when you are wearing them, or ask a friend.
Another way to check the fit of your goggles before going swimming is to lean forward, so your face is facing down towards the floor. Press the eye seals into your eye sockets and let go — they should stay in place if they are a good fit. You can make adjustments to the nosepiece and spread of the eyepiece, but if the swimming goggles don't hold without the strap, at least for a few seconds, they probably will need a very tight strap to keep the water out.
Avoid making a bad fitting pair of goggles fit by over tightening the head strap. Although this may seem to work, you risk having sore eye sockets after a swim, so ideally you want a pair that keep the water out with only a low tension in the strap.
Then it is up to you to choose the swimming goggles you like the best.
All of our corrective lens goggles will protect your eyes from water and help you to see where you are going.
Choose the Goggle Model
Prescription goggles have come a long way in recent years. Prescription goggle users can now choose from lenses and goggle frames that are just as sleek and hydrodynamic as non-prescription goggles.
There are both recreational and racing styles of prescription goggles. Serious swimmers and lap swimmers will want to buy a racing style and should look for low profile frames, or those with "racing" in the model name.
Swimmers who rarely do lap swimming and just want an alternative to going without glasses in the water — such as masks or goggles with larger lenses — should look at recreational models. These have more generously padded frames and offer wider peripheral vision.
Some brands offer separate prescription lenses that can be inserted into specific goggle models. Make doubly sure that the lenses you order are compatible with your goggle frames. This may be a good option for swimmers whose eyes have significantly different prescriptions.
There are a few brands that design bifocal goggles, with just the lower half of the lens set to a certain prescription.
There are even brands that offer positive dioptre lenses.
Corrective lens goggles may be a bit more expensive than non-prescription goggles, but they are still very affordable (and getting more so every year). If you are having trouble deciding which goggles to buy, please consider asking your optometrist. Once you have your goggles, it may take a few minutes for your eyes to adjust to new lens, but after a short adjustment period, you should be able to use them adequately in the pool or ocean.
Whatever your preference, there are plentiful corrective/optical lens options available to ensure that everyone can see clearly to experience the beauty and wonder of the underwater world while swimming.
Shop For Prescription Swim Goggles
The ordering process with us is extremely simple, which is why we sell so many.
Visit the Prescription Swim Goggles page of our online shop.
Please carefully read the information provided, and follow the process.
Consult with your optometrist. They'll give you the left and right eye dioptre values you need when placing your order.
Revisit our Prescription Swim Goggles page and choose the model you like.
Select the dioptre values you need.
Add to Cart and then Proceed to Checkout.
Once ordered, it doesn't take long for us to fill your prescription and send your new corrective swim goggles right to your door. Before you know it, you'll be hitting the clear water with crystal clear vision!
Best Corrective Prescription Swim Goggles
Our picks for the best swimming goggles with corrective prescription lenses are:
View Swim Platina Goggles with Corrective Lenses -+
RRP: $62, Our Price: $59, You Save $3 (5%).
These swimming goggles give you a whole new clear vision underwater. They are available with a wide range of +/- dioptre values to choose from for each eye. Negative dioptre lenses are available in: -0.5 dioptre increments from -1.0 to -7.0 and -1.0 increment from -7.0 to -10.0. Positive dioptre lenses are available in: +0.5 increments from +1.0 to +5.0 and +6.0.
View Swim Junior Optical Goggles w/ Corrective Lenses (6-12 yrs)
RRP: $62, Our Price: $59, You Save $3 (5%).
These junior swimming goggles will fit most kids aged 6 to 12 years of age. They feature a wide range of negative and positive dioptre values to choose from for each eye. Negative dioptre lenses for those with near-sighted or myopic vision are available in: -1.0 dioptre increments from -2.0 to -7.0. Positive dioptre lenses for far-sighted swimmers are available in: +1.0 dioptre increments from +2.0 to +6.0.