Meet The Team
The Scuba Doctor staff on the front line and behind the scenes, are all working hard to ensure your experience with us is the best it can be. Our success is built upon the dedicated work, enthusiastic joy and warped humour of our wonderful team who go out of their way to delight customers everyday. We value our customers and want to ensure they have everything they need for the dive of their lives. Got a question? Not sure on something? Get in touch and let us help you.
These fine folks are who lovingly help make The Scuba Doctor the go-to local dive shop for all Australians.
Mark Green
General Manager

Mark Green,
The Scuba Doctor AustraliaMark joined The Scuba Doctor dive shop team as General Manager in October 2021 after a career as a Mechanical Engineer, in document management, project management, plus security and networking system installation and integration.
Mark dived in Melbourne for many years as a member of the Getunder Dive Club. After a few years in Queensland he has returned to Melbourne and is looking forward to getting back to diving in Melbourne and Victoria.
Hannah Smeeton
PADI IDC Staff Instructor
PADI Gas Blender Instructor
TDI Advanced Nitrox & Deco Procedures Instructor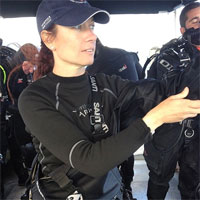 Hannah Smeeton,
The Scuba Doctor AustraliaOriginally training to be a teacher through a double degree in Education/Arts and then obtaining a Diploma in Frontline Management, Hannah Smeeton took a change in her career path when she caught the diving bug in the 1990s.
Hannah started her professional diving career in the cold waters of the U.K. where her first foray into the business side of diving was the establishment of an independent dive club in 1999. Returning to Australia she established and ran a successful Victorian dive store.
While still developing her skills as a diver, Hannah took a professional hiatus from working in the dive industry to pursue a career in Project Management with Melbourne University. This also funded her obsession with diving around the globe, having now dived extensively in Oceania and all but one of the continents. Hannah continued to expand her knowledge of the underwater environment by pursuing numerous courses in Marine Archaeology, Marine Biology and underwater photography.
Hannah returned professionally to the Victorian Diving Industry a number of years ago — simultaneously working full time with a charter company, dive shops and dive wholesalers.

Hannah Smeeton,
Rebreather DiverHannah holds rankings as PADI IDC Staff Instructor, Gas Blender Instructor and SDI/TDI Adv Nitrox & Deco Procedures Instructor. She has earned numerous technical and CCR certifications within the CDDA, NAS, SSI, IANTD and TDI. In 2003 Hannah beat the Guinness World Record for the Longest Submergence on a Single 12.0 lt, 232 bar cylinder of air (7 hr 25 min 8.5 sec).
With over 4000 dives and 500 student certifications under her belt, Hannah has turned her attention to managing a network of dive subsidiaries dealing with importing and exporting, retail and web-based sales.
Currently living on the Mornington Peninsula and residing two minutes from work and ten minutes from the hub of the Victorian diving, she continues to surround and immerse all facets of her life with diving. Holding office in a number of independent dive clubs and consulting for several dive related businesses, Hannah, in her spare time, speaks to various groups nationally on issues such as Women's Health in Diving.
Sam Glenn-Smith
PADI Instructor

Sam Glenn-Smith,
The Scuba Doctor AustraliaMy diving journey began in Fiji, 2010 where I was instantly hooked. Diving for me was a new frontier, a new world where I experienced things I could never dream of — the feeling of weightlessness, the immense spectrum of colours and the throng of life around me, from the tiny shrimp hiding in crinoids to the behemoth tiger shark. Diving very quickly became my fixation.
My passion for the ocean began to surge in 2015 when I met Marine Biologist Daniel Geary at Atmosphere Resort in the Philippines. My eyes were opened to a wonderful world of macro diving and tiny little critters that appear to be from another world — but more so I was introduced into the world of underwater photography. This new age of previously unheard-of equipment provided me with immense motivation to learn more about the ocean and share my findings with the world.
I have become truly passionate about underwater photography and marine conservation — with a desire to continue finding, photographing and hopefully inspiring people around me to learn more about the wonderful, unique and mysterious oceans on this planet. I love talking all things marine and photography and am always open for a phone call, a chat in store or even better a dive with camera in hand.