Great Southern Reef

Diving the Great Southern Reef from the Back Beaches of the Mornington Peninsula in Victoria.
Australia is well known for its spectacular tropical coral reefs, such as the Great Barrier Reef in Queensland, and Ningaloo Reef in Western Australia. Less well known is Australia's Great Southern Reef. Its kelp forests contain unique and diverse marine life by global standards, and the Great Southern Reef covers 71,000 square km.

Map of Australia's Great Southern Reef
Shallow (less than 30 metre) kelp forests define more than 8,000 km of temperate coastline across southern Australia and the reefs of Victoria's southern temperate waters are a part of the truly unique Great Southern Reef. Victoria's long south-facing coastline means we have a huge temperate (or cold water) marine environment.
Australia's many millions of years of geographical isolation means our reefs and marine environment have developed in response to an uncommon combination of environmental forces. Just as the Great Barrier Reef is recognised as an entity made up of more than 2900 individual reefs dominated by corals, Australia's temperate reefs should be considered collectively as an entity made up of thousands of kilometres of rocky temperate reefs, dominated by kelp forests, inter-connected through oceanographic, ecological and evolutionary processes — truly a Great Southern Reef.
In contrast to the domination by corals on tropical reefs, the dominant biota on temperate reefs are generally macroalgae where there is enough light. In temperate systems, the majority of carbon fixed is via these large algae. In tropical systems, the majority of carbon fixed is by the symbiotic relationship of microscopic algae living in the tissue of sponges and corals. Contrary to common belief, corals are common in temperate waters, but they do not build reefs here.
Not surprisingly, the marine life of southern Australia contain a multitude of species found nowhere else on earth. While coral reefs support a huge variety of fish species, it is the temperate southern areas that support a greater diversity of marine life (especially flora and invertebrate fauna). Researchers call this region Australia's Unique South.
Approximately 70% of the Australian population live within 50 km of the Great Southern Reef. Yet most people haven't heard of it!

30 minutes of relaxing rare kelp forest biodiversity of the Great Southern Reef
Diving the Great Southern Reef near Melbourne

Great Southern Reef shore dive | © Phil Watson
Some of the best Great Southern Reef dives are not far from The Scuba Doctor dive shop, along the Bass Strait coast of the Mornington Peninsula, at what are referred locally as "The Back Beaches". See Back Beaches and Cape Schanck on our Melbourne Shore Dives page for details of the shore dives available. See also Diving the Back Beaches for a guide to diving the Back Beaches. You can even explore shipwrecks while diving at some Back Beach dive sites. Please keep in mind that diving on the Great Southern Reef from the shore near Melbourne can be really challenging and can only be done by experienced divers when weather and sea conditions are appropriate.
Most of the other Great Southern Reef dive sites near Melbourne are accessed as boat dives. It's common to hunt for crays and abalone when they're in season while on these dives.
On our Melbourne Reef Dives page we list lots of reef dives in Victoria, many of which are dive sites on the Great Southern Reef.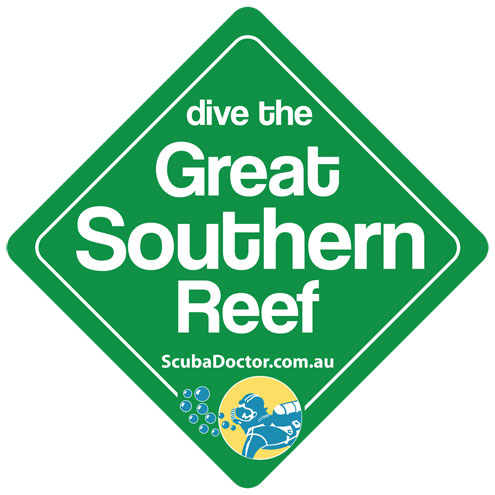 Dive the Great Southern Reef cylinder sticker available from The Scuba Doctor.
Diving the Great Southern Reef in New South Wales
The coastline of NSW and Sydney are home to many boat and shore dives on the Great Southern Reef. See Sydney and NSW Dive Sites for more details.
More Information
For more information about the Great Southern Reef, please join the Facebook group Great Southern Reef.
See also the following resources:
For Schools
Great Southern Reef
Year 9 Science Australian National Curriculum
Click here for Full Curriculum Breakdown of this unit.