FAQs About Melbourne Diving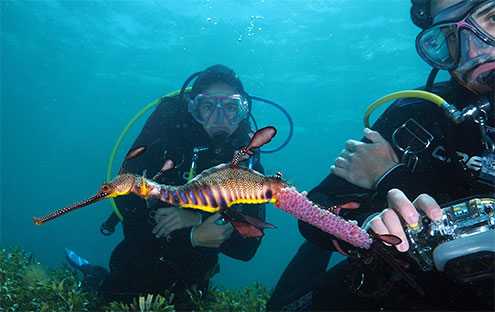 Diving with Weedy Seadragons at Flinders Pier. Photo: Divemaster Sam Glenn-Smith.
The following questions and answers should give you an idea as to what you can expect things to be like as an overseas or interstate scuba diving visitor to Melbourne.
Visitors Diving in Melbourne
Am I qualified to dive in Melbourne?
As long as you have an Open Water dive certification, or equavalent, you can do shore dives with us in Melbourne. As you become more comfortable with the diving, and if you have the required certifications and/or experience, you can go on to boat and deeper dives.
Please see Melbourne Dive Sites for details about the amazing range of dives that you can do in Melbourne and Victoria.
Can I dive without a Dive Guide, Dive Master or Instructor?
Of course you can if you're a certified open water diver. There are heaps of accessible Pier and Shore Dives available.
Most dive boat charter operators in Victoria provide you with a way to get to and from the dive site. Once at the dive site you will be briefed on the dive site. Then you and your dive buddy are free to do the dive independently from all others on the dive boat.
Many divers visiting Melbourne aren't accustomed to this. They are used to having a Dive Guide, Dive Master and/or Instructor with them on all of their boat dives. If you would prefer to dive with such supervision, you'll need to arrange it with your dive boat charter operator.
Can I hire a private guide for technical or underwater photography diving?
Yes, if you are a technical diver or a serious underwater photographer, you may arrange for your own private dive guide for Melbourne and other Victorian dive sites.
Are night dives available?
Absolutely! The Scuba Doctor can provide a fantastic night dive experience at local piers where you will be amazed at the hordes of fish.
Night diving the many local shore dives is also very popular with local and visiting scuba divers.
Are boat or shore dives available?
For boat dives you'll need the services of a dive charter operator, or access to a private boat.
A huge selection of exciting boat dives, wreck dives, pier dives, and shore dives are available in Melbourne.
Where can I dive in Melbourne?
The dive sites local to Melbourne are mostly either in Port Phillip or Bass Strait.
For more information about our local dives sites, please see Melbourne Dive Sites.
Can I dive every day?
The Scuba Doctor is closed on Tuesdays most of the year, but not in the peak of the summer holiday season. There are other dive shops and charter operators open every day of the year, except for Christmas Day.
What visibility can we expect?
Anything from 3 metres (9.84 feet) to 30 metres (98 feet).
What is this litres, metres and bar stuff?
In Australia we dive using the metric system of measurements (e.g. litres, metres and bar), not the imperial system (e.g. cu ft, feet and psi) which is what most Americans use. If you normally dive using the imperial system, you might like to check out our Litres, Metres and Bar web page for some more information about the differences. It could save your life!
---
Dive Equipment
What kind of wetsuit should I bring?
During the summer months (December to February) most divers wear a 7 mm or 5 mm full length wetsuit. The water temperature varies with depth so if you're planning deeper dives you may need more protection.
During the winter months (June to August) most divers prefer a 7 mm wetsuit plus hood and gloves to keep warm in our temperate waters. Though as dry suits become more affordable, many divers are switching to them.
It is important that you have enough protection to ensure you stay warm during any necessary safety and decompression stops, as well as to protect the skin from contact with wrecks and reefs. Divers planning to do dives with long decompression times in winter may prefer a dry suit.
Can I hire dive equipment?
Yes, The Scuba Doctor has quality, name brand, dive equipment available for rent. Please see Scuba Equipment Rental for more details.
All of our cylinders (tanks) available for hire are fitted with DIN/K valves. The are configured as a Yoke valve, but an insert can be removed to convert them to a DIN valve.
Can I hire an underwater camera?
Most photographers prefer to use their own equipment, thus very few dive shops and charter operators here rent underwater cameras. Underwater photographers can bring their own digital cameras on guided dives.
Can I dive with twins?
Yes, most dive boat charter operators are happy to assist you in diving with twin cylinders. Please let them know of your interest to dive twins when you book so that they can coordinate scuba gear requirements with you.
Is Nitrox available?
Yes, at The Scuba Doctor we can provide Nitrox fills. Please see Air and Nitrox Fills for details.
Where is the nearest hyperbaric chamber?
The nearest hyperbaric chamber is at The Alfred Hospital in Melbourne. This is a world-class facility with a number of chambers which are used to treat divers, plus the general public for various medical conditions.
Will I need extra lead weight?
Well of course you will. Victoria, Australia is the land downunder which means you'll need extra lead to keep you from falling off. The Scuba Doctor can help you with this.
---
Travel and Accommodation
Getting to Melbourne
Melbourne has a busy international airport with most of the major airlines flying in regularly. There are also two domestic airports for those flying in from interstate, with plentiful flights each day from Sydney, Brisbane, Adelaide, Perth, Cairns etc.
If coming in from interstate, for a more scenic, leisurely ride, you might like to travel by train or bus. Or you might prefer to hire a car, or recreational vehicle, and drive yourself.
How do I get to The Scuba Doctor?
The Scuba Doctor operates from Rye on the Mornington Peninsula. We are around 100 kilometres (62 miles), or a 90 minute drive, south of the Melbourne city centre. Allow 2+ hours for the drive in summer, sometimes longer. We recommend arriving in town much earlier than you need to be. It is a pretty place!
While you could use public transport (train and bus) to get close to most of dive operators and then take local taxis, this is not very practical. If you don't have your own transport, you really should get a hire car. Fortunately car hire costs in Australia are very reasonable.
Please see Visit Our Rye Store for more information.
Where can I park?
There is plenty of off- and on-street parking at The Scuba Doctor dive shop. There is public parking at all of the pier dive sites we visit, though parking fees may apply at the busier times of the year.
In peak times parking may be very difficult to find parking near some dive sites as they are popular.
Please note the car parking is not secure and The Scuba Doctor does not take responsibility for the cars or contents.
Where should I stay?
If you want to be based in Melbourne itself, you will find a wide range of accommodation, which can either be booked as part of your package or find something on-line to suit your budget.
There are also plenty of accommodation options on the Mornington Peninsula, and even nearby in Rye, Blairgowrie, Sorrento or Portsea.
How do I get from my accommodation to The Scuba Doctor?
You really need your own transport. While it is possible to get to us via public transport, it's not practical. We are unable to transport you.
Melbourne and Victoria
Australia! What is it like?
Australia is the sixth largest country in the world. It's about the same size as the 48 mainland states of the USA and 50 per cent larger than Europe, but has the lowest population density in the world — only two people per square kilometre.
What's the best time of year to come?
Melbourne, Australia is a temperate water diving location with a moderate oceanic climate which is notable for its changeable weather conditions. Indeed, "four seasons in one day" is a common term used to describe the weather at certain times of the year, especially in Spring. The amazing thing is that we have great scuba diving all year round!
Melbourne enjoys manageable summers, glorious springs, mild autumns and crisp winters. With its variable climate, Melbourne is warm to hot in summer (December to February) 26 °C (79 °F), mild in autumn (March to May) 17 °C (63 °F), cold and damp in winter (June to August) 14 °C (57 °F), and cool in spring (September to November) 17 °C (63 °F).
For the city as a whole, the warmest months are generally January and February, which are often dry and prone to hot spells, although some respite is provided by the cooling sea breezes of Port Phillip. June and July are the coldest months, while October is the wettest. The annual average rainfall for Melbourne is around 600 mm (23.5″), which is substantially less rain than Sydney receives.
What is the average water temperature?
Diving in the Melbourne area is cooler than its compatriots further north in Sydney, Brisbane or on the Great Barrier Reef. November–March have the warmest waters for diving in Melbourne. Water temperatures typically peak at 20 °C (68 °F) around the middle of February (Australia's summertime). The water temperatures can be as low as 10 °C (50 °F) around the middle of August (Australia's winterrtime).

Melbourne water temperatures and rainfall
Diving at sites in Port Phillip in generally warmer than at dive sites in Bass Strait.
There are benefits to diving all year round in Melbourne. Warmer summer waters attract more critters and make diving all the more pleasant. While the water is colder in winter, the visibility is typically better due to low plankton growth.
During the summer months most divers wear a 7 mm full-length wetsuit with a hood and dive gloves. During the winter extra layers of warmth are added underneath the 7 mm wetsuit. Some local divers switch to using a drysuit in winter. The water temperature varies with depth so if you're planning deeper dives you will need more thermal protection.
What is the time zone in Victoria?
Victoria is on Australian Eastern Standard Time which is UTC/GMT +10. In the summer, daylight saving is introduced and everyone switches to UTC/GMT +11.
What languages do the locals (Australians) speak?
English. Though you may also come across those who speak "strine". To avoid sounding too much like a tourist, remember Melbourne is pronounced "Mel-bun" rather than "Mel-born".
Will my battery chargers and powered stuff work?
The electricity supply in Austrralia is 240 volts AC, 50 Hz. We also use a different electricity outlet style to most other countries, so you may need to purchase adaptors.
What type of money do I need?
The Australian Dollar is the unit of currency. One Australian Dollar is roughly equivalent to approximately 0.70 US Dollars. See XE.com for currency conversions.
Make the most of your time on the Mornington Peninsula
For more information about local accommodation and attractions visit the Sorrento Visitor Information Centre website. You can also contact the Sorrento Visitor Information Centre by phone on +61 3 5984 0065.
To get the most out of your visit to the Mornington Peninsula region, visit the official Mornington Peninsula Tourism site or contact the centre by phone on +61 3 5950 1579.
What can my non-diving partner or family do?
There are plenty of activities and tours for the non-diver visiting Victoria. There is some fantastic snorkelling and kayaking at local piers and beaches. Plus there are charter operators who can take your partner swimming with seals and dolphins.
When it comes to other activities, you name it and Victoria probably has it. The Mornington Peninsula area is renown for its local golf courses, wineries and food outlets.
Melbourne is home to many of Australia's major annual sporting events, with cricket, Australian Rules Football, tennis, golf, motor racing, horse racing and motorcycle racing all represented.
Melbourne is the self proclaimed cultural capital of Australia, with its European street cafes, theatres, galleries and museums. In Melbourne alone, you'll find over 3,000 restaurants, cafes, bistros and bars. There are various art, music and comedy festivals throughout the year.
If you can't keep away from the underwater world for too long, then try the Melbourne Aquarium. The brand new Ocean Down Under exhibit features the Shark Conversation Project and Australia's largest fishbowl. Watch the sharks being fed, wiggle with the octopus, enjoy the jellies, bask with the stingrays and go for your life on the Shipwrecked ride.
Melbourne has tied with other cities as the World's Most Liveable City on a number of occasions.
Booking and Cancellations
Please plan to arrive much earlier than you need to be for your dive departure. Allow additional time for traffic delays, parking and time to relax once you arrive at the dive shop.
If you are late for your booking and miss the dive, your booking fee will not be refunded.
A 100% cancellation fee applies to no-show or cancellations within 24 hours of departure.
Mornington Peninsula Visitor Information Centres
If you're going to be visiting the Mornington Peninsula for a while and want to look into some activities other than diving and snorkelling, the centres listed below offer a wealth of information on accommodation and attractions, galleries and boutique wineries, beaches through to maps and golf courses. as well as wildlife adventures and other marine experiences.
---
Need a question answered that wasn't covered above?
Then ask away by sending an email to diveshop@scubadoctor.com.au. Your email question will be answered, plus the commonly asked questions will be added, together with the responses, to this web page.
---
Book your Discover Local Diving Experience now! It includes a Dive Professional supervised dive in an area (normally a local pier) on the Mornington Peninsula.
We will run with only one diver booking for just one guided dive, but we will accept up to four (4) people for a guided dive, and do up to three guided dives for the day. The third dive must be on the same day and at the same dive site as the second dive booking.
For more information, please about the guided dive experience, please see Guided Dives and FAQs About Melbourne Diving.