If you are not using steel scuba cylinders, try to use one and you will soon realise what you have been missing.
In general, most experienced divers prefer the buoyancy characteristics of steel tanks to those of aluminium. Steel cylinders are lighter on land than the same capacity aluminium cylinder, but heavier (more negatively buoyant) in the water. This characteristic has many advantages. The greater negative buoyancy allows the diver to remove lead weight from their weight belt, or integrated weight system of the BCD, allowing the diver to better distribute weight by moving it to the rear of the BCD, a great advantage when wearing a back inflation style (Wing) BCD.
With aluminium scuba cylinders, as we breathe the weight reduction of air in them typically creates positive buoyancy at or near the end of a dive. Thus you need to carry extra weight to compensate for this. The steel cylinder with its negative buoyancy throughout the dive allows you to shed the excess lead that is required to keep you properly trimmed while you dive an aluminium cylinder.
Which Size Steel Scuba Cylinder Is Right For You?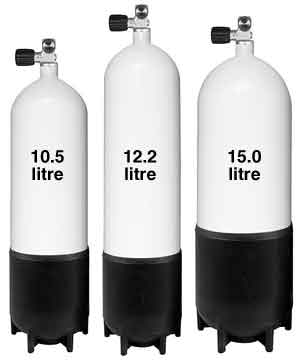 Divers in cooler temperate waters most commonly use the following three Faber steel tank sizes:
Faber 10.5 Litre (85 cubic foot), 232 bar — This smaller cylinder size is preferred by many women because it's lighter and easier to handle. If you are a diver with a very good surface air consumption rate, as many women are, then this cylinder has enough air capacity for most dives. A pair of these steel tanks is also popular with sidemount divers, and women technical divers.
Faber Standard 12.2 Litre (100 cubic foot), 232 bar — This standard size, 178 mm (7 inch) diameter, cylinder size is used by the vast majority of divers. A pair of these cylinders is also the most common choice for technical divers.
Faber Standard 15.0 Litre (125 cubic foot), 232 bar — This larger size, 204 mm (8 inch), cylinder size is the choice of divers with a poor surface air consumption rate. However, it's larger size and weight makes it awkward for many divers to use.
Faber 3 Litre (25 cubic foot), 232 bar, 100 mm (3.9 inch) diameter, are the popular choice of rebreather divers.
Low and High Pressure Steel Scuba Diving Cylinders
Faber Low-Pressure Steel — 232 bar — Lighter on land than standard aluminium scuba cylinders, these Faber 232 bar steel cylinders feature a higher working pressure than most aluminium cylinders, thus delivery a larger gas capacity for the same internal volume. The 232 bar Faber cylinders come equipped with a DIN/K type valve that easily converts back and forth depending on the type of First-Stage Regulator to be used in conjunction with the cylinder increasing the versatility of the tank. When diving with these cylinders less weight is needed, making them perfect for divers that use drysuits, or wetsuit divers in cold/temperate waters. The Faber steel cylinders are popular for cave diving and have a strong following among technical divers everywhere. The average working pressure is 232 bar.
Faber High-Pressure Steel — 300 bar — Much heavier than standard aluminium and steel scuba cylinders, these Faber 300 bar steel cylinders use much higher working pressure to provide a huge gas capacity in a small size. Like their low-pressure steel cousins, less weight is needed with these cylinders. A favourite with wreck divers, the average working pressure is 300 bar.
Faber is the leading manufacturer of steel scuba cylinders in the world and is the market leader in Europe and Australia where diving with steel cylinders is the norm. Faber's cylinders are manufactured from deep drawn 34CRMO4 Chromium Molybdenum steel plates to ANSI specifications. This process results in a light cylinder with the right buoyancy characteristics allowing the diver to reduce the amount of weight from their weight-belt. The interior of the cylinders are shot-blasted followed by their exclusive phosphatised coating which creates a perfectly cleaned internal surface, highly resistant to rust. The exterior of the cylinder is triple protected with zinc spraying, epoxy primer coat and polyurethane finish coat for durability.
The service life of a properly cared for modern steel scuba cylinder is widely considered to be 50 years or more. The service life of a properly cared for aluminium cylinder is more controversial. Most dive shops, including The Scuba Doctor, won't fill an aluminium tank manufactured before 1990.
The Scuba Doctor carries an extensive selection of Faber steel cylinder sizes starting with the 2 litre (16 cubic foot) all the way up to the 18 litre (150 cubic foot) cylinder. Faber cylinders are available in 8-inch, 7.25 and 7-inch diameters with working pressures of 232 bar and 300 bar.
All dive cylinders from The Scuba Doctor dive shop are visually inspected and shipped with a current hydrostatic date (except where indicated).