Selected Product Range

The "Wall of Temptation"
at The Scuba DoctorThe Scuba Doctor selling philosophy is a simple one. Help you get what is right for you at a good price and then take care of you. So much of what goes on in diving retail is very opportunistic. Sure other dive shops will sell you equipment, but do they take the time and effort to make sure it is right for you.
A perfect example of our philosophy is that someone taking our beginning SCUBA class does not have to buy any equipment. Many dive shops require their students to purchase a few hundred dollars worth of equipment before they even know how much they like the sport. This type of pressure selling is not part of our way of doing things.
When people are ready to purchase equipment from The Scuba Doctor, they will find that we will take the time that is needed to do it right. We carry the equipment we trust and believe in.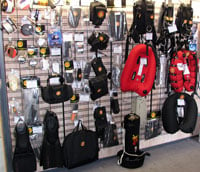 OMS in stock at The Scuba DoctorAny SCUBA manufacturer would love to be in our dive shop. We have the equipment we have, because the manufacturers that we carry have been shown to care about you as much as we do. Companies that will do the extra things that will keep you happy. By dealing with these excellent companies we can offer a level of service that everyone appreciates. Some of these companies may not be the biggest. They are just the best.
Huge Selection of Top Scuba Brands
As a result of our philosophy, we sell and service scuba equipment from a wide range of leading dive gear manufacturers. However, of all of the brands we have available, we are particularly keen on:
OMS - Ocean Management Systems

BC systems, backplates, elastomeric banded wings, regulators, lights, knives, floatation devices and accessories that NASA specifies and uses in their Astronaut training programmes.

Northern Diver

For the ultimate drysuit system, plus a great range of BCDs, regulators and accessories.
Extreme high performance regulator and inflator diving hoses.
Other brands we also sell include AP Diving, Apeks, Apollo, Aqua Lung, Catalina, Cressi-Sub, Dive Perfect, Dolphin Tech, Faber Cylinders, IST Sports, Mares, Mirage, Pelican, Probe Wetsuits, Salvimar, Sherwood Scuba, Sonar, Suunto, Tusa etc.
Buy Online or come by and see us, or call us on 03 5985 1700, or send an e-mail to diveshop@scubadoctor.com.au.