Dive Facilities
The facilities at The Scuba Doctor south of Melbourne in Rye, consist of a large air conditioned lounge area, a back of shop change and shower area, plus plenty of FREE parking.
Air, Nitrox & Trimix Fills

The air, nitrox and oxygen fill panel at
The Scuba Doctor in Rye, MelbourneOur multi gas fill panel is second to none in Australia. Our air is analysed every month, 2/3rds more often than required by the Australian Standard AS3848.2. Our Gas Purity Test Report results are displayed for you to inspect, as required by the Standard.
At The Scuba Doctor you get to park really close to the dive shop entrance. Even boat owners can use our drive in and park car and boat trailer area. Plus, we have a trolley you can borrow to make getting your cylinders in and out of the dive shop much easier. More about: Air and Nitrox Fills - Clean filtered Air fills in Melbourne to 300 bar, plus Nitrox and Oxygen
Dive Shop

The Scuba Doctor dive shop in MelbourneThe Scuba Doctor is the Best place to buy Scuba Gear & Scuba Diving Equipment! When you shop with us, your Satisfaction is Guaranteed! We we hand select the manufacturers that we deal with so that you only get the very best scuba diving equipment available.
We have a large range of dive accessories in store that many other dive shops overlook. Come in and visit us, call us, or Shop Online.
Take a tour through the dive shop.
Dive Lounge

The dive lounge
at The Scuba DoctorOur dive lounge area, complete with Free Wi-Fi, TV, DVD, VHS entertainment and bar fridge, is used by customers to relax before dives, between dives, or just for a social drink and get together over nibbles after the days diving. We have tea, coffee, soft drink and water for sale at reasonable prices.
Many divers and locals get together at The Scuba Doctor for Friday Night Drinks from 5 pm every Friday. If you're nearby, please drop in and join us.
In our Dive Lounge local diving history is passed down through the generations, legends are made and egos deflated, all with great humour and respect. While it may appear that some divers live in the dive lounge, they do actually go home at night. The use of these facilities is free of charge.
Dive Gear and Diver Care
We have a change area with showers for you to refresh after a dive. There is also a wet area with wash up bins for your "after dive" use. We also have a storage area where some divers and dive clubs store their gear between dives (short or long term). More about: Online Shop - Carefully chosen products at great prices
Car Parking
Our location provides abundant hassle free car parking even during the busiest times.
Boat Owners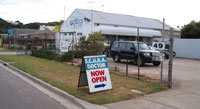 The boat drive though area
at The Scuba DoctorBoat owners are well catered for at The Scuba Doctor. On weekends and public holidays, we have a drive through area where you can bring your boat and park when coming in for air fills before or after your diving. You can even wash down your boat so that it's clean and ready to head out diving next time.
On normal weekdays you'll usually find enough on-street parking close to our entrance, or in our yard, for your car, boat and trailer.
Dive Courses
The Scuba Doctor will guide you, as required, to the best courses available at all levels, with the most experienced instructors. More about: Courses - Bespoke Open Water through to Advanced Technical Trimix Courses