Scuba Cylinder Testing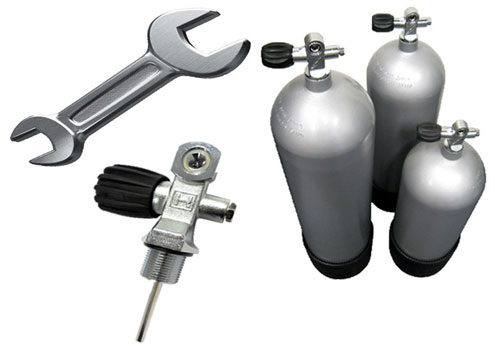 Hydrostatic cylinder/tank testing from The Scuba Doctor includes:
FREE Airfill
FREE Valve Inspection
Valve servicing available
Environmentally friendly cleaning procedures
Annual Dive Tank Inspection and Testing
Australian Standards (AS2030.5) require that your scuba diving tank be visually inspected and pressure tested at a certified testing station once per year.
Why is Annual Scuba Cylinder Testing Necessary?
As a dive shop cylinder filling station is a place of work under the Victorian Occupational Health and Safety Act 2004 (OHS Act), employers must comply with certain requirements. (Note: Similar acts apply in other Australian states.)
One is that compressed air cylinders are filled, tested, operated and maintained according to manufacturer's instructions and AS2030.1 and AS3848.2. This means gas cylinder filling stations must only fill gas cylinders that have a current, legible test mark of a certified gas cylinder test station. They must also ensure that the cylinder complies with AS2030 requirements prior to each filling.
See the WorkSafe Victoria document Recreational scuba diving and snorkelling guidance - 'DIVESAFE' (PDF, 41 pages, 3.8 Mb) for further information.
Aluminium 6351-T6 alloy cylinders will not be tested. We consider them to be unsafe. For an explanation as to why, please see SafeWork NSW Safety Alert, Gas Cylinders Manufactured From Aluminium Alloy 6351-T6, 25 Oct 2016.
How We Test Dive Cylinders
Please read an article by by Peter Fear in which he explains just what happens when your scuba tank has its annual visual inspection and hydrostatic test. More about: Cylinder Testing - It's time for the annual inspection...
---
What Happens To Failed Cylinders
Should a scuba cylinder fail to pass testing, it will be condemned and destroyed as prescribed in AS2030. If the valve is found to be faulty it will be serviced accordingly. Working J valves will be replaced. Regulators will be serviced to manufacturer's specifications.
Please Plan Ahead
If you want The Scuba Doctor to test your scuba cylinder, please plan ahead. Many people only think about having their annual cylinder test done a few days before they want to go diving. Thus we tend to get the most cylinders for testing in the peak of Summer as people decide to go diving. A better time would be in Autumn, just before that great Winter dive vacation, or in Spring as you start to think about the local dive season. This is also a good time to get your regulator serviced as well. Then your dive gear is ready to go when you want to use it. Please keep this in mind as you make plans.
Need a new dive cylinder? Take a look at the new Faber steel and Catalina aluminium cylinders we have available in our dive shop.