Course Equipment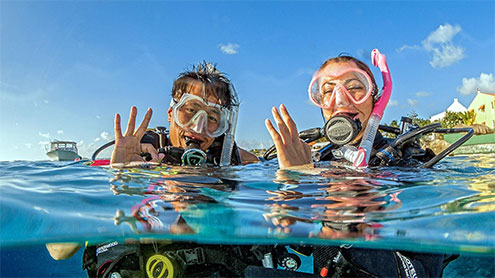 Diving is an equipment orientated sport. To go scuba diving, freediving or spearfishing requires gear.
Required Scuba Hardware
On courses where you're not a certified diver, you will be provided with the essential "hardware" — Buoyancy Compensator, Regulators, Gauges, Dive Computer, Air Cylinder, Wetsuit and Weight Belt.
If you're doing a course where you already are a certified diver, we expect you to have the required hardware items. Rental gear is not included in the price of these courses. The Scuba Doctor has high-quality BCDs, Regulators with Dive Computers, Scuba Cylinders, Wetsuits and Weight Belts available for hire. See Scuba Equipment Rental for details.
If your course requires additional scuba gear such as a dive light, underwater writing slate, dive compass, reel, DSMB or knife, then you must provide them.
Personal Scuba Gear
You'll need to provide your own bathing suit and towel. For your personal hygiene and comfort, there are some things that we simply choose not to provide you with. This is out of concern for your health and well-being. These personal items include:
Snorkel — We do not supply snorkels due to bacterial transfers from saliva from one individual to another. We care about our divers health.
Mask — Masks are often kept from fogging up by spitting inside the lens and rubbing it all over the glass. This provides a film that will not allow condensation to adhere to the glass. Would you like to place on your face, or the face of your loved ones, into an item that someone else has recently spat in?
Gloves — Gloves are designed to keep you warm and to protect you from cuts and abrasions. They are not supplied in your course because of the risks of Dermatitis.
Dive Boots — Dive boots are worn with Open-Heel fins to provide warmth. They must fit your feet comfortably. Tinea is a nasty fungal bug that loves to jump from one person to another. Nuff said!
Fins — Fins propel you through the water. They must fit properly to use them effectively without causing cramps.
Wetsuit — Although we supply you with, or can rent a wetsuit to you, depending on the course, we advise that you consider purchasing your own. A bad fitting wetsuit will allow cold water to enter and chill you on your dive.
If you don't already have them, you can buy these items in our dive shop online or in-store. Our experienced dive shop staff can help you with the right equipment choices.