Air and Nitrox Fills

The air, nitrox and oxygen fill panel at
The Scuba Doctor in Rye, MelbourneYou can't dive without something to breathe. Whether you need Air, Nitrox or Oxygen to dive, The Scuba Doctor can usually fill your open circuit or rebreather cylinders while you wait. Not only are we fast, we also provide fills at wallet friendly prices!
We're located south of Melbourne in Rye on the Mornington Peninsula. So if you're heading out for a dive, or coming back from a dive, drop in and try the best fills in Australia. If you need fills out of hours, just let us know in advance and we should be able to help out.

The dive lounge
at The Scuba DoctorThe Scuba Doctor is famous for its excellent Dive Facilities. You get to park off-street, really close to the dive shop entrance. Plus, we have a trolley you can borrow to make getting your dive tanks in and out of the dive shop much easier.
All divers get to relax in our Dive Lounge and use the Free Wi-Fi. We have tea, coffee, soft drink and water for sale at reasonable prices. We have a change area with showers for you to refresh after a dive. There is also a wet area with wash up bins for your "after dive" use.
Drop offs: You are welcome to leave your cylinder with us for filling and return at a later time to claim. We are not responsible for cylinders left over 60 days.
You may be asked to produce the relevant diving certification card to obtain Nitrox and Oxygen fills.
Scuba Air Fills
We deliver clean hyper-filtered air to 300 bar.
Prices are correct as of 15 January 2022. All prices are subject to change without notice.
Air Fill Prices
Air Fill Type (Up To 250 Bar)
Price
inc GST
Airfills - Single Cylinders
Up to 12.5 litre Cylinders (105cf)
$ 10.00
15 litre Cylinders (125cf)
$ 12.00
18 litre Cylinders (150cf)
$ 14.00
50 litre Cylinders
$ 40.00
Note: Unmanifolded twins are charged per cylinder
Airfills - Manifolded Twin Cylinders
Up to Twin 12.5 litre (210cf)
$ 15.00
Twin 15 litre (250cf)
$ 17.00

We can fill scuba cylinders with DIN 300 Bar, DIN 200 Bar and Yoke (K valve, A-Clamp) style valve fittings.
300 Bar Fills
300 bar air fills are double the standard air fill prices.
Higher pressure fills, to 300 bar, are available. These types of fills can sometimes be carried out straight away, although customers should allow at least 45 minutes during busy periods.
As high pressure air produces a small amount of heat it is advisable to give us a longer filling period to ensure the cylinder after the initial fill can be left to cool down and then be 'topped up' to ensure a good fill. The normal period for cooling a filled cylinder allowing it to return to ambient is 1 hour, therefore if you wish to have a "good fill" then you should allow more time, or the cool down when your cylinder goes into the sea will reduce the air pressure. (Rule of thumb — 0.6 of a bar for every degree Celsius.)
Things to Know About Air Fills
Safety is the first priority in our fill station.
Before filling any cylinder, we perform a cursory inspection or a mini visual inspection. This includes: checking the remaining cylinder pressure, an inspection for external damages and ensuring both the visual inspection sticker and current hydrostatic stamp are still in date and valid.
For air, we fill at a recommended fill rate of 20 to 40 bar per minute (based on a standard S80, 11.1 litre, aluminium cylinder, or a 12.2 litre steel cylinder).
Our large air bank also enables a quick turnaround for all your cylinder fills.
We recognise the importance of clean air and will go extra miles to ensure that the air we deliver to our customers meets EN12021 at all times.
Quarterly air analysis is performed.
"Top up" fills are charged at the standard air fill prices.
Oxygen Clean Cylinders
If your cylinder is Oxygen Clean, then please let the dive shop staff know this. They will then fill your tanks from the O2 Clean fill whips on our panel.
Is It O2 Clean?
Our dive shop staff may ask you this. Cylinders get presented to us with all sorts of Nitrox, Trimix and O2 Test stickers that are often out of date. The cylinders are no longer being used as if they were O2 Clean, but still have markings that imply they might be. So our staff may ask, just to make sure.
Nitrox Fills
Enriched Air Nitrox fills can be arranged through The Scuba Doctor Dive Shop. We have a first-class Nitrox blending panel and booster pump. Our qualified nitrox gas blenders can accurately partial pressure blend your choice of Nitrox mixes up to and including 100% oxygen, often "while you wait".
Nitrox Fill Prices: (inc GST)
Oxygen: 5.0 cents per litre
Air: $ 8.50 per fill for O2 less than 100%
Blending: $ 10.00 per fill
You can use our Nitrox Calculator - Requested Mix or Nitrox Calculator - Top Up Mix to calculate the total price of your Nitrox fill.
Maximum pressure for Nitrox fills up to 70% Oxygen is 240 bar.
Maximum pressure for Nitrox fills above 70% Oxygen fills is 200 bar.
What You Need To Know About Nitrox Fills
Bring Your Certification Cards
You may be asked to provide appropriate certification for the blend you are purchasing.
Oxygen Clean
Because we use partial pressure blending to do Nitrox fills, your cylinder and valve must be "Oxygen Clean". During the fill process 100% pure Oxygen will be used.
Normal EAN Fill Times
Please allow a minimum of 45 minutes for blending especially during busy periods. An indication of the completion time should be received from the dive shop staff at the time of arrival. The process of partial pressure filling the cylinders is based on a manual system and on staff priorities serving other customers. The more time you can give us the better and it is appreciated.
Urgent EAN Fills
If you have an urgent requirement and require an instant fill or solution, we will try to assist provided you arrange this with the dive shop and subject to the availability of a suitably qualified blending technician we can often oblige.
Good Fills
The normal period for cooling a filled cylinder allowing it to return to ambient is 1 hour, therefore if you wish to have a "good fill" then you should allow more time, or the cool down when your tank goes into the sea will reduce the air pressure. (Rule of thumb — 0.6 of a bar for every degree Celsius.)
100% Oxygen Fills
Maximum pressure for 100% Oxygen fills is 200 Bar. To achieve a 200 bar O2 fill, we need to use our booster pump.
Rebreather divers, please note that we are unable to booster pump Oxygen into 3 litre or less sized cylinders. (Our booster is too big and generates too much heat when filling small cylinders for it to be done safely.) We will only be able to fill these small cylinders to the highest pressure available in our O2 banks. If we have a full O2 cylinder, the pressure achievable is typically around 170 bar.
We can fill scuba cylinders with DIN 300 Bar, DIN 200 Bar and Yoke (K valve, A-Clamp) style valve fittings. We can also fill medical grade Oxygen cylinders with Pin Index valve fittings.
PCP Air Rifle, Air Gun and Paintball Gun Fills
We can refill the majority of air guns, air rifles, pre-charged pneumatic (PCP) rifles and paintball cylinders/tanks/bottles, provided you have the correct scuba cylinder adaptors.
Maybe you'd like to consider buying a scuba cylinder so that you can fill your guns yourself. See Air Gun and Paintball Cylinders.
Quality Assured Clean Diving Air
The Scuba Doctor has an effective compressor, air filtration and blending system which allows us to provide clean, dry, breathing quality air up to 300 bar, plus Oxygen and Nitrox fills.
Our gas delivery system uses multiple filters to hyper-filter all of the compressed air for our Air, and Nitrox fills. We provide you with safe and moisture free air with a breathing gas quality that is 50 times cleaner than conventional scuba compressed air. Never taste oil vapors in your fills again.
We constantly measure the dryness of the air we produce. This is essential to provide you, the customer, with clean, dry air. We test our air every 3 months to continue providing you these high standards. Please feel free to take a look at one of our Gas Purity Test Reports.
All Scuba Cylinders Must Be In Test
We will not fill dive cylinders/tanks that are out of test.
Aluminium 6351-T6 alloy cylinders will not be filled. We consider them to be unsafe. For an explanation as to why, please see SafeWork NSW, Safety Alert, Gas Cylinders Manufactured From Aluminium Alloy 6351-T6, 25/10/2016.
Refusal of Service: The Scuba Doctor reserves the right to refuse to fill cylinders that it deems unsafe.
For more details on why we insist all cylinders we fill are in test and safe, please read the section on Annual Inspection and Testing on our Scuba Cylinder Testing web page. It will also tell you about the cylinder testing services available from Scuba Doctor Service and Repairs.
The Scuba Doctor Dive Shop Cylinder Fill Setup
Clean, pure, accurate gas fills are the heart of our business. The key to what we do is not just an obsession with preventive maintenance and accuracy, but also the tools we have at our disposal. Our scuba diving cylinder/tank fill station was built from the ground up with Safety and Convenience in mind.
The Dive Compressors
We have two older model, super reliable, proven performance dive compressors online: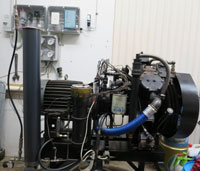 Ingersoll Rand Air compressor at
The Scuba Doctor in Rye, MelbourneCompressor One:
15 CFM Ingersoll Rand Air Compressor
7 HP, 7.5 KW, 3 phase 415 Volt
This is a version of the world renowned 4R15 Ingersoll Rand HP Model compressor. The compressor features a direct drive electric motor with a 33-inch, repackable, air filter tower, inter-stage pressure gauges, low oil shutdown switch, low air startup switch, high air shutdown switch and automatic drain valves.
Air Storage Banks
We have three air storage banks connected to the compressors and fill panel:
Bank 1: Two 252 litre, 350 bar storage cylinders (ex submarine).
Bank 2: Four 47 litre, 300 bar storage cylinders.
Bank 3: Two 47 litre, 300 bar storage cylinders.
The air storage banks are filled to 305 bar.
Oxygen Supply Cylinders
We always have three 50 litre (size G) Oxygen supply cylinders in store. They are connected to the fill panel at all times. These come filled to 179 bar, which gives 8900 litres of O2 per cylinder.
Fill Panel
We have an awesome custom built fill panel. Features include:
Three DIN/Yoke air fill whips
Two DIN/Yoke air/nitrox/trimix/oxygen fill whips
One 19-inch, repackable, air filter tower
One Crystal Engineering Corp Digital Test Gauge XP2i 5000 psi
One Floyd Australia 150 mm (6-inch) Oxygen compatible main gauge
One Aqua Environment Model 415-5000 Standard Flow Reducing Regulator
Control valves for the three storage banks
Three Stauff SPG-063-00400-01-P-N04 Stainless Steel Pressure Gauges for the storage banks
Control valves and gauges for the three O2 cylinders
Control valves and gauges for the two Helium cylinders
Control valves for the gas booster pump
The three DIN/Yoke air fill whips are only used to put air into non O2 clean cylinders.
The two DIN/Yoke air/nitrox/trimix/oxygen fill whips are used to put any gas into an O2 clean cylinder.
Gas Analysers
We have a Divesoft Analyser He/O2 for measuring oxygen, nitrogen and helium concentration in Nitrox and Trimix diving breathing mixtures.
We also have an Analox O2 EII oxygen analyser for measuring the oxygen concentration in Nitrox diving breathing mixtures.