About Us

The Scuba Doctor dive shop in MelbourneWelcome to The Scuba Doctor. We want you to know something about the people and history that makes up the The Scuba Doctor dive shop. All too often we meet and work with people and know little or nothing about them. We want you to feel comfortable and confident with The Scuba Doctor. A short history can help. Here goes...
The Scuba Doctor was started in 2003, south of Melbourne in the Mornington Peninsula suburb of Rye to cater for the needs of recreational, technical, commercial, military and rescue scuba divers.
The Scuba Doctor Australia

Mark Green,
The Scuba Doctor AustraliaIn October 2021, Mark Green was appointed General Manager then in February 2022, Mark Green and Hannah Smeeton took over as the new owners of The Scuba Doctor's bricks and mortar dive shop in Rye, the on-line dive shop, and its subsidiary businesses from Lloyd Borrett who has since gone into retirement.
In March 2022 The Scuba Doctor Diveshop was re-established at a PADI Dive Centre.
The dive shop is now trading as:
The Scuba Doctor Australia
ABN 88 116 755 170.
Scuba Equipment Specialists

The "Wall of Temptation"
at The Scuba DoctorThe Scuba Doctor is not your regular dive shop. Located at 1/49 Peninsula Avenue in the Rye Industrial estate on the Mornington Peninsula south of Melbourne, The Scuba Doctor began as a dedicated Hydrostatic Cylinder Test Station and scuba equipment Service and Repair shop.
Scuba diving is an equipment intensive sport. Yet many divers find it difficult to get the right equipment at a good price, plus have someone they can rely on to maintain and service it properly. So The Scuba Doctor started a small retail operation to sell selected products to the divers whose equipment we were servicing. As other local Melbourne divers discovered The Scuba Doctor, this side of the business started to grow.
Late in 2006, we built a website for the local dive shop and then added an Online Dive Shop that featured technical diving products. The website soon accepted it's first online order which was released on the same day, and delivered the next day. Through our ethical online sales practices, backed up by exceptional customer service focused on the consumer, the business went from being a local dive shop to one that serviced customers Australia wide.
Over time, the original website began expanding and selling even more products, with a great selection of top brands with a broad appeal to experienced sport divers. Today, the company maintains a focus on the needs of the experienced sport and technical scuba diver.
Via the online dive shop, The Scuba Doctor has been able to successfully extend its commitment to value and professional service to scuba divers Australia wide. However, we're still a local dive shop that is a locally-owned small business focused on diver's needs. Who we are as an internet retailer is still strongly influenced by the the unique nature of our Mornington Peninsula based local dive shop.
The Right Advice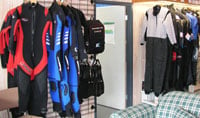 Drysuits, wetsuits and undersuits
at The Scuba DoctorOur selling philosophy is a simple one — Help you to get what is right for you, at a good price, and then take care of you.
So much of what goes on in dive shops is very opportunistic. Sure other dive shops will sell you equipment, but do they take the time and effort to make sure it is right for you. A perfect example of our philosophy is that someone taking our Open Water scuba class does not have to buy anything but personal dive equipment. Many other dive shops with training programmes, require their students to purchase many hundred of dollars worth of equipment before they even know how much they like the sport. This type of pressure selling is not our way of doing things.
The Scuba Doctor offers free advice to all levels of divers. Those just about to start diving. Newly qualified divers just starting to explore the underwater world as a recreational diver. Experienced divers as they tackle new types of diving. Advanced and technical divers as they continue to pursue wreck, cave and other specialist types of diving. Even dive masters, diving instructors and commercial divers who are diving for a living.
It's all about having the right diving equipment to suit your diving, within your budget. Plus the information and tips on how to configure it to suit your needs. And finally, someone to properly Service and Repair it.
Selected Product Range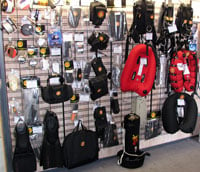 OMS in stock at The Scuba DoctorWhen you are ready to purchase equipment from us, you will find that we will take the time that is needed to do it right. The Scuba Doctor carries the equipment we trust and believe in. Any scuba manufacturer would love to have their products in our shop.
We have the equipment we have, because the manufacturers that we carry have been shown to care about you as much as we do. Companies that will do the extra things that will keep you happy. By dealing with these excellent companies we can offer a level of service that everyone appreciates. Some of these companies may not be the biggest, and most widely known brands in the industry — they are just the best.
Get Out and Dive
There are many things that go into a great diver — good training, the right equipment and experience. The building of experience has always been important to us at The Scuba Doctor. Helping divers to get out and dive is one of the things we do best.
Our history makes The Scuba Doctor what we are. We hope that we can help you to enjoy your scuba diving a little more. Helping you to be the best diver you can be is what we are all about.